Snaptite H Series Steel Coupler
General Purpose, Poppet Style Quick Disconnect Coupling - Snap-tite H Series
The Snap-tite H Series Quick Couplings have been proven by years of use in hydraulic and pneumatic applications as well as many gases and fluids. The H Series quick disconnect is a fully engineered design and meets or exceeds MIL-C-51234 while providing superior flow characteristics with built in reliability. The two-piece body construction permits larger flow passages than the designated size of the coupling, permitting greater flow while maintaining low pressure drop and provides end fitting versatility. Snap-tite's "Jet Stream" valve design helps maintain a clean linear flow. Positive positioning of the valve aids in maintaining a steady, even flow under normal working conditions. Also refered to as: Quick Action Coupling, Quick Disconnect, Hose Coupling, Hydraulic Coupling, Valved Coupling, Straight-Through Coupling. Conforms with ROHS and WEEE European Directives.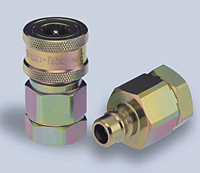 VHC4-2M
VHC4-4M
VHC6-6M
VHC8-8M
VHC12-12M
VHC16-16M
VHN4-2M
VHN4-4M
VHN6-6M
VHN8-8M
VHN12-12M
VHN16-16M
BVHC4-2M
BVHC4-4M
BVHC6-6M
BVHC8-8M
BVHC12-12M
BVHC16-16M
BVHN4-2M
BVHN4-4M
BVHN6-6M
BVHN8-8M
BVHN12-12M
BVHN16-16M
SVHC4-4M
SVHC6-6M
SVHC8-8M
SVHC12-12M
SVHC16-16M
SVHN4-4M
SVHN6-6M
SVHN8-8M
SVHN12-12M
SVHN16-16M
VHC4-2F
VHC4-4F
VHC6-6F
VHC8-8F
VHC12-12F
VHC16-16F
VHN4-2F
VHN4-4F
VHN6-6F
VHN8-8F
VHN12-12F
VHN16-16F
BVHC4-2F
BVHC4-4F
BVHC6-6F
BVHC8-8F
BVHC12-12F
BVHC16-16F
BVHN4-2F
BVHN4-4F
BVHN6-6F
BVHN8-8F
BVHN12-12F
BVHN16-16F
SVHC4-4F
SVHC6-6F
SVHC8-8F
SVHC12-12F
SVHC16-16F
SVHN4-4F
SVHN6-6F
SVHN8-8F
SVHN12-12F
SVHN16-16F
VHC4-4H
VHC6-6H
VHC8-8H
VHN4-4H
VHN6-6H
VHN8-8H
BVHC4-4
BVHC6-6H
BVHC8-8H
BVHN4-4H
BVHN6-6H
BVHN8-8H
SVHC4-4H
SVHN4-4H